I recently ordered a TUFF Products "5 In-line" 1911 mag pouch...
5 In Line Mag Pouch
Designed by Ichiro Nagata, the Tuff 5 In Line Magazine Pouch is unlike any other. An individual pocket for each magazine ensures they are secured nice and tight. The included flap attaches with Velcro and can be left in place for storage and transport. Remove the flap and attach the pouch to either your belt or MOLLE vest for quick access to additional ammunition. Made from double-layered, 1000 denier cordura and mil-spec webbing, these pouches are designed to take a beating.
Available Colors:
- Black
- Coyote Brown
Also available in an 8 In-Line model...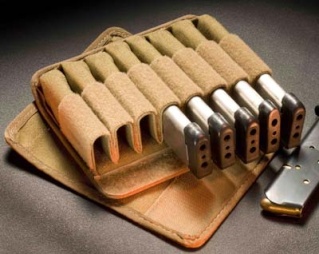 8 In Line Mag Pouch
The 5 In-Line and 8 In-Line Mag Pouches are made in a variety of different sizes to fit various types of single-stack and double-stack pistol mags. There is also a version made to fit AR-type rifle mags.